Delivering Wins for Kenmore
Granted, claiming 'credit' is a dubious business, so that's not what I want to do here. Folks who put in the work know well that most any victory is the culmination of teamwork and collaboration, and usually won through a sustained and committed effort. So it's in this spirit that I want to share three selected instances where I felt like my contributions were an instrumental aspect — one among many — in bringing home that "W."
Pride Art at City Hall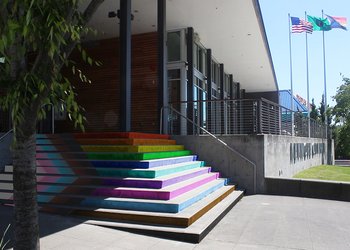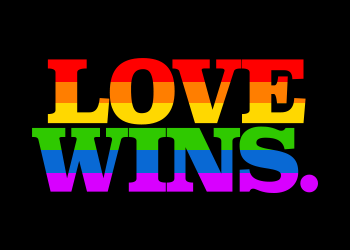 I designed a mockup to help illustrate how the finished project might look, and helped rally folks out to the Special Meeting where the issue was to be reconsidered.
Council first voted 6-1 to paint the steps of City Hall for Pride Month this year, following in the footsteps of many cities that had commissioned similar works. That vote should have been the end of it, but after some ire from a few community members, Council scheduled a follow-up Special Meeting to potentially reconsider it. I do not think we should be timid in declaring Kenmore a safe and inclusive city in the year 2023, so I lent some creative talents to help seal the deal. I snapped an updated photo of City Hall with the Pride Flag flying high, and designed the mockup above to help more realistically illustrate what the steps would look like once finished. I also produced some LOVE WINS t-shirts for several of us to wear to the meeting. It was a community lift, and thankfully, something worked — that night, four members of Council ( a majority ) indicated they weren't changing their vote, so the meeting was adjourned without any followup action, and the original 6-1 vote was maintained. Love affirmatively wins. 🏳️‍🌈
Local Initiative Powers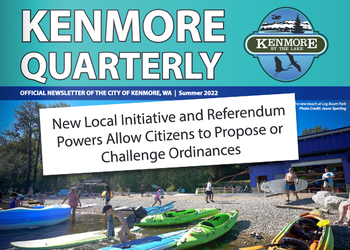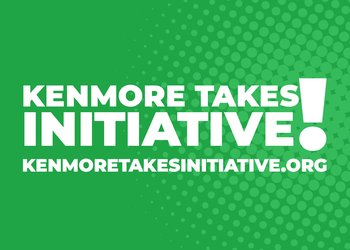 Initiatives were featured in the Kenmore Quarterly, Summer 2022, on page 9.
Initiative and referendums grant the power to the community to author new legislation ( or vote on things decided by Council, if there's disagreement ). In 2021, I discovered Kenmore was one of few local cities without this, so I co-founded the Kenmore Takes Initiative! campaign. We rallied the community, made the case, and ultimately won these important civic powers for every voter in Kenmore. It passed with a unanimous 7-0 vote, including a personal recognition from the Council dais:
Northshore Fire / Prop 1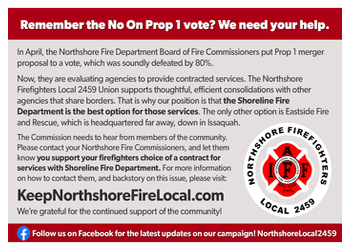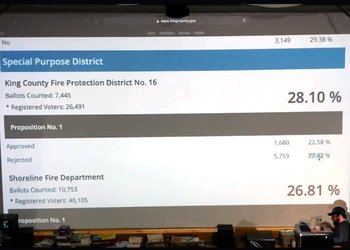 After much strife, the Northshore Firefighters ultimately got the deal they wanted.
In 2021, three members of the local Northshore Fire Commission went rogue and tried to ram through a proposed merger — Prop 1 — that nobody wanted. It was soundly defeated, with 80% of residents ultimately voting No. Then that fall, the Commissioners attempted again to ram through another bad faith deal, so I helped turn out over 70 residents to the Commission meeting where the community spoke overwhelmingly against it. Inevitably, the rogue Commissioners ultimately caved, new Commissioners were voted in, and finally our local firefighters got the contract they wanted in February 2022.